Welcome to the official Wolfe Wave website as taught by Bill Wolfe. Please take a tour.
Very important: There are thousands of drawings on the Internet of "supposedly" Wolfe Waves. They were not drawn by me and have no relationship to the precise rules that I teach.
Update: 11/10/23
Last call!
December 4th through the 15th will be my last teaching period this year.
Big discount!
For those that want to avoid a big price increase this is a special offer. I am offering a $500 discount for any that sign up for this last teaching period.
Price increase!
Next year there will be a substantial price increase as in addition to my advanced lessons I will be identifying potential lottery-like returns on specific put and call options.
Update: 9/26/23
For those that like to trade the night market on a smaller scale (MES) this 15-minute nailed the target line, for the most part, while you were asleep.
Precise Wolfe Wave timing works 24/7.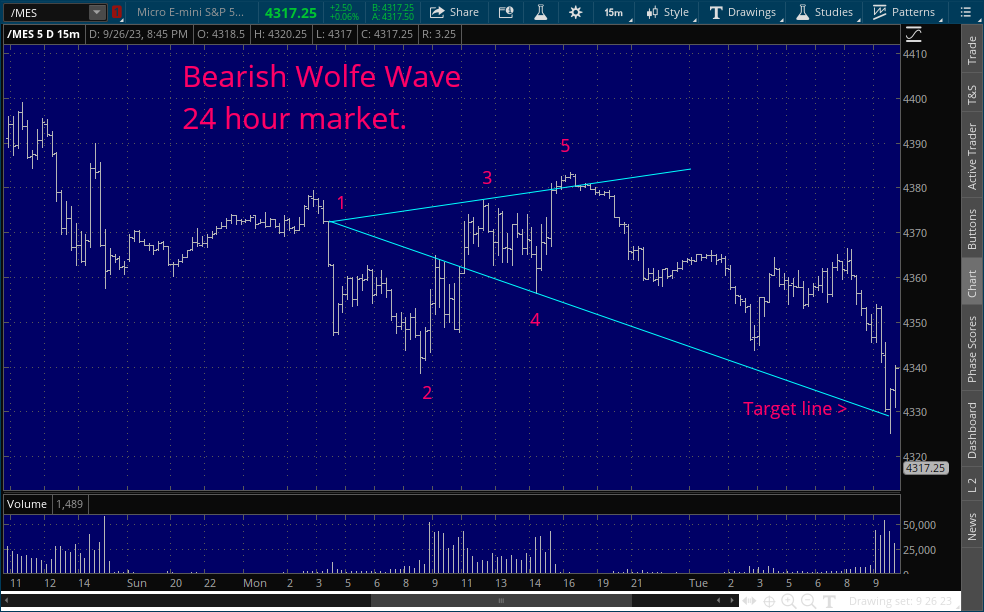 Update: 9/18/23
With the recent addition of zero days to expiration (0DTE), option trading gets even more exciting. Those with the Wolfe Wave knowledge can zero in on bets with precision to reap lottery like results.
On the two charts below the one on the left is a 30-minute of QQQ. My students could easily have recognized the bearish wave (not drawn). The chart on the right shows the price range of a put option. From bottom 1.02, to top 6.02, in just five hours on this "conservative" option choice.
QQQ with put option chart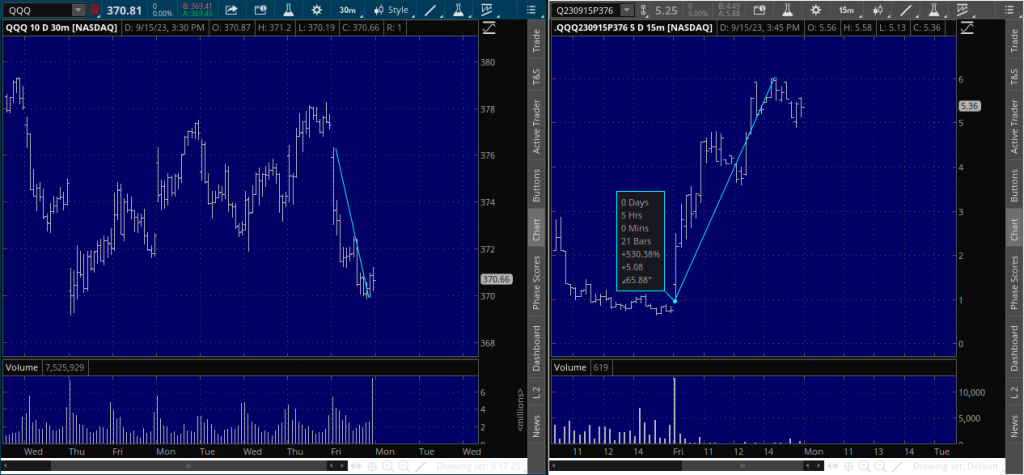 Update: 7/27/23
On FOMC days things happen fast but not chaotic as TV would have viewers believe. It is simply balance: a natural rhythm, a Wolfe Wave.
At the 4 point the Fed announced a ¼ rate increase. TV analysts' debate. Wolfe Wave practioners salivate. They know that price is likely to rally to a 5 point then reverse with a vengeance to the target line. This chart is a 15-minute of the SPY which is an ETF of the S&P. I plotted it on the SPY instead of the ES for easy comparison to a suitable SPY option.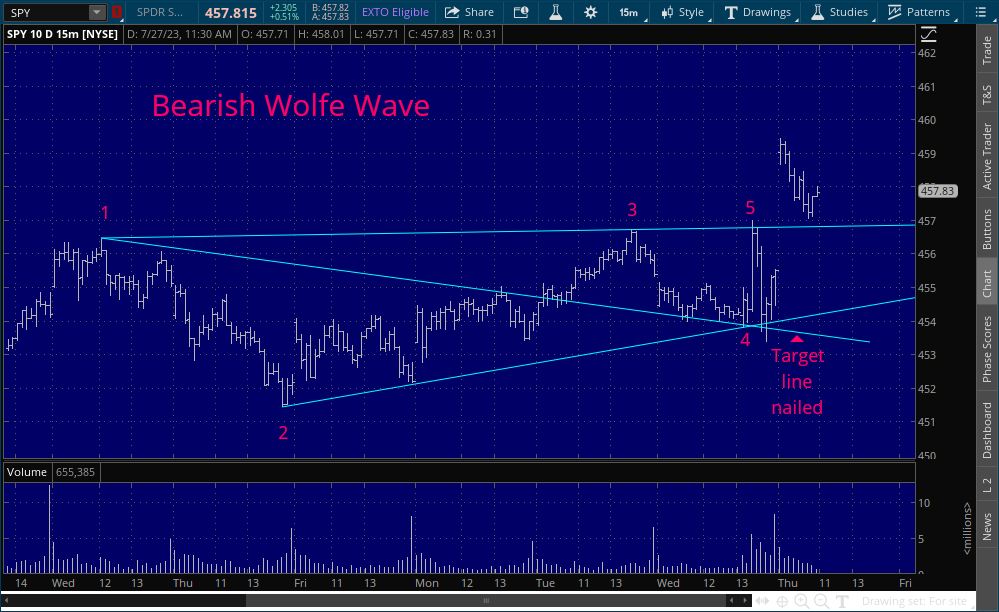 – SEE MORE! –

Deep Space Hubble Telescope

So, what does this have to do with the stock market?



My ingredients are all natural. I use no preservatives or harmful additives: Indicators, oscillators, moving averages, or other junk.

I do use tools that were given to us by the Creator: Fibonacci spirals, waves, pendulum, vibrations and more.

The current bullish wave should continue until price hits the target line or a bearish wave forms on a smaller time frame.

By taking my course you will learn the secrets and be able to scale down to as low as a 1-minute time frame to identify waves. Look too easy? Sure. Took me almost 50-years to perfect it.

The current bullish wave on the weekly time frame should continue until a bearish wave forms on a smaller time frame or the price hits the target line.

Did you know that identifying the correct time frame is the most critical component in chart analysis? Do you know that the time frame changes depending on whether you are looking for a bullish wave or a bearish wave?

This and much more is taught during my advanced lessons.
---
The following is a list of memorable clips, and / or conversations with clients: A call from a fund manager that just made $75,000 on a small move in the S&P. "I've been trading for a long time and I have never seen anything as powerful as this." He went on to tell me how…