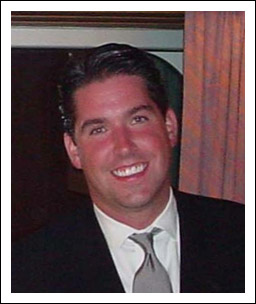 Brian Wolfe
10/10/74 – 07/05/04
Brian Wolfe, my son, co-discoverer of the Wolfe Wave, webmaster, and creator of "Fatso and Skinny," passed away on the night of July 4th, 2004. Up until the last few hours of his life, he was doing what he liked best: sailing with his love Aimee and friends, and good camaraderie with his family and dock neighbors.

The family thanks all that have expressed their condolences. To all that knew him, Brian was special. The following will be expressed on his memorial stone.

There is a comfort in knowing that Brian's gentle heart and kind spirit will continue to live on in the hearts of those he left behind. His palpable absence will never be understood, but the ache in our hearts serves as a reminder that Brian was a remarkable young man. His energy was magnetic, and his passion for life contagious. He brought out the best attributes in people, and in return people gravitated to him. Brian was giving, compassionate, witty, intelligent and loving. He was a symbol of success. He cherished his life entirely and embraced all this world had to offer. Fate has separated us for now, but we will meet again in the eternal light. Let us all rest tonight; knowing this earth is a better place because Brian existed in our lives.
---